You know your love for a good Canadian tuxedo has reached its peak when you catch yourself repeatedly pulling away from your denim threads in fear of exploiting a great trend. It's not only great, it's also simple and as unconventional as it may seem, pretty classic. After noticing how much I kept on leaning towards denim on denim outfits, it could not have been more clear that I had some great blogging content on my hands. What started off as an outfit post quickly turned into a who wore it best one after coming across these pictures.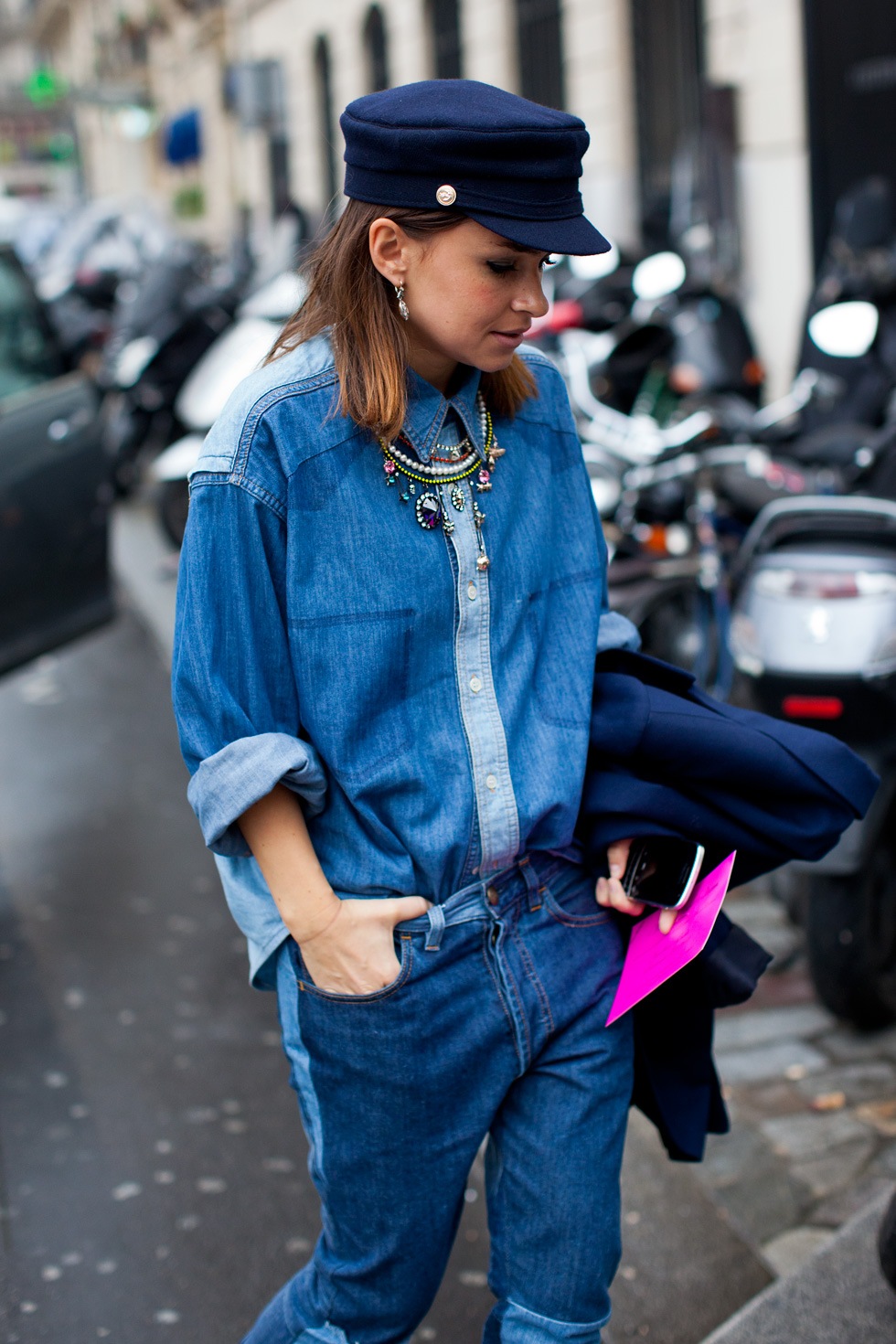 Miroslava Duma, Camille Rowe-Pourcheresse, and another Chicistani that shall remain nameless (only because I don't know her name) all nailed their own renditions of the Canadian tuxedo but for some reason when I asked myself who I thought had worn it best I was at a complete loss. After coming to the conclusion that the best outfit would be a merger of all three, this post took yet another turn in the direction of a dream outfit collage.
On the left is an outfit I created around this
Isabel Marant denim patchwork button-down
that I am very much obsessed with. I love Camille's palazzo pants but not nearly as much as I love blue denim so I opted for my favorite
J Brand Love Story jeans
. And to top it all off, a bold necklace à la Miroslava but actually from
Bauble Bar
. Why not keep the blue theme going? What's that you say? What about a more casual necklace for the day time? I'd go for a longer and thinner necklace like this cute little dangly one from
Topshop
and layer it with a crystal teardrop necklace for a more subtle sparkle from
Shopbop
.
Just when I thought my dream outfit was complete I stumbled upon this sick jumpsuit on
Asos
and from there came outfit number two. Pleated palazzos and cut-out back for the win. Also for less than a hundred bucks.
What. a. win.
And for a bigger pop of color à la Brad Goreski, I went straight to
Sharouk's neon pendant necklace
pictured in the middle. I saw it in a store a few days ago and have been obsessed with it ever since. For a more wallet friendly POC, voila -- a neon collar from
Topshop
. And there you have it Chicistanis. An almost outfit post turned into a who wore it best post turned into a dream outfit one and now, just a good ol' love story. And who doesn't love a love story? Huh huh huh?