Hi Chicistanis, once again, sorry it's been a while. I suck. To get back into the swing of things, I started a little PFW street-style recap instigated by Tommy Ton's rad pictures last night, but was let down this morning when the Man Repeller beat me to it. So, there goes that. As I was going through my draft folder in search of something else, I came across a collection of another batch of street style photos intended to inform you guys how graphic prints are back and bigger than ever before yadda yadda yadda. I also remembered
I got this little alert
, and seized the blogging opportunity presented to me.
Plus, I really lurve this outfit.
To transition into nighttime, I just added my Sandro leather jacket (this was of course when it wasn't a million degrees in NYC) which is actually on sale now at their Soho location (!) and switched to my
Rebecca Minkoff sandals
. I wanted to take a proper picture of this outfit but that never happened soooo, photo from my friend's Instagram it is.
My creative juices are slacking, so disregard this abrupt transition. Regardless if your freezing your ass off, or sweating, this trend is an easy go-to year round. Get inspired below.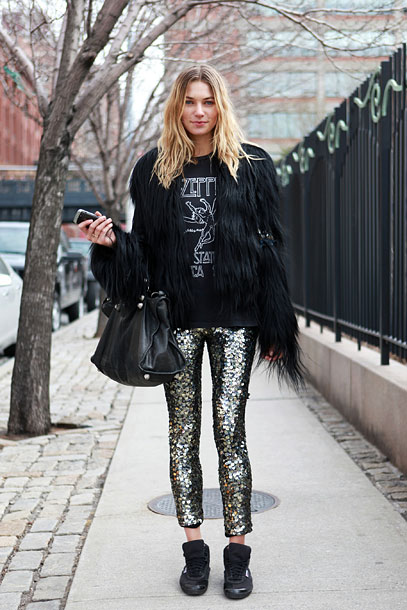 This
Phillip Lim sweater
is on my fall wishlist. Worn casually with jeans or even dressier with a statement necklace, there are so many possibilities.
Turtleneck under college sweater paired with a leather pencil skirt and knee high boots is not something I would have ever conjured up in my head but it works, it works rather well actually. Ivy league college sweater recommended in order to dress to impress on all levels.
I've seen
this Cé
line s

kirt around town quite a bit recently but Alexa Chung's leather jacket, tee, and tasseled loafers are a refreshing twist to it. On a side and totally irrelevant note, does anyone else think Ms. Chung always looks so.. awake in pictures?
What I love about graphic tees is that it makes the rest of your closet, specifically your more fancier items, a lot more wearable. Exhibit 1, Jessica Hart wearing sequin leggings while the sun is still out. Exhibit 2, the Chicistani above in her
Azzedine Ala

ï

a skirt.
Whether you prefer Balenciaga's dog tee or, Givenchy's, printed canines still prove to be bad ass. I couldn't locate this exact one online but
here it is in grey.
Roof.
And last but not least, Tommy Ton captured my favorite way to wear a graphic t-shirt in Paris this past week, with a statement necklace.
Pictures via Mr. Newton, Harpers Bazaar, The Cut, Street Peeper, Street Fsn, Style.com.
Gram wif me: @julianasalazar, Tweet me: @MadeinChicistan, or write me a lil love note: jsalazar@madeinchicistan.com