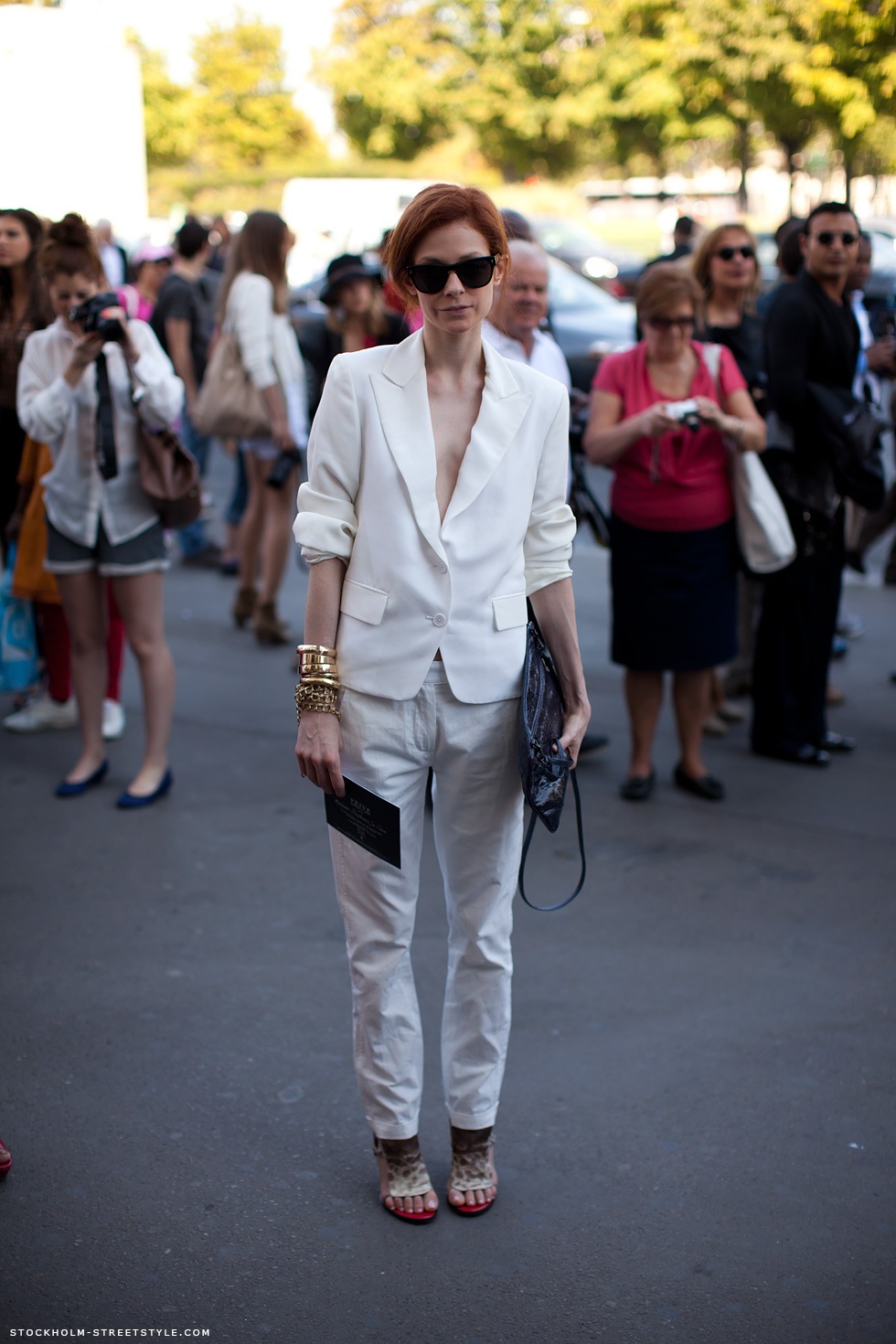 Picture via Stockholm Streetstyle
Love love luuuuh-ooove this summer suit Stephanie LaCava was sporting around Paris a few weeks ago. So fresh and so clean, clean. Clearly Stephanie loves it too because I caught her repeating the same outfit down to the shoes back in August 2011 below hehe.
Picture via Stylelist.com
My question is how on earth do you manage to stay spotless white? And how do you still own the same pair of sunglasses? Am I the only one that thinks that an incredibly long lifespan for glasses? Or maybe I'm the only one that loses slashes breaks all their shit? Yep, that might be it. Back to what's important though, the suit. Such a classic and relaxed outfit that is practically begging to be recreated. So, if you wish to do exactly that, here are my suggestions:
For the bottoms I would go with either these
Vince Chinos
or
True Religion boyfriend jeans
. Cuffed, of course. I know the
True Religions
are a throwback but they actually look like they fit magnificently, they appear to have the perfect amount of boyfriend slouchiness. Wouldn't you agree? The blazer is a bit harder since apparently everyone's all about the one button nowadays and that might be too revealing when wearing just a blazer.
This one from Zara
is a pretty safe bet though and one can add another button if need be. For the shoesies I would do any of the following:
B Brian Atwood
,
Tory Burch
,
DVF,
Miu Miu,
Valentino
,
Lanvin
. You know, if the interwebs were my closet.
To end this post, did you guys see
the Man Repeller's post today
? Did it ring any bells? If not, you should click
here
. Did I call it or did I call it? I love when this kind of stuff happens, even more so when I'm a whole year ahead of the game. BOO YA!
Instagram: @julianasalazar, Twitter: @madeinchicistan, E-mail: juliana@madeinchicistan.com